The American Meteor Society has published a statistical analysis of fireball events reported to the society since 2005. This report is not intended to be a conclusive study regarding the rates of fireball meteors, but simply a representation of the data logged by our systems. The article also includes an appendix of the most significant sonic boom producing bolide events reported to the society over the last 8 years.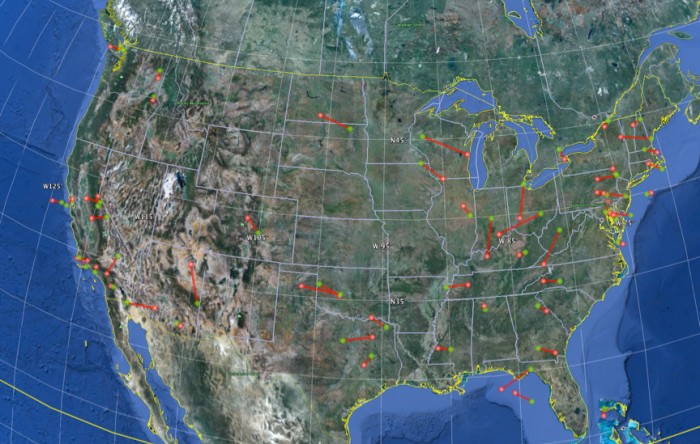 Significant Sonic Boom Producing Fireball Events Logged With the American Meteor Society from January 2005 through February 2013.
This document, The Analysis of a Citizen Science Based Fireball Tracking System is available for download in PDF format or HTML (with the Appendix).
An Excel worksheet containing the raw data used in this study can be downloaded here: AMS Fireball Events XLS
A Google Earth KML file containing the estimated trajectories of the significant AMS events from 2005-2013 can be download here: Trajectory Estimates for Significant AMS Events 2005-2013.  (KML file provided in zip format and must be unzipped. File can only be used with Google Earth. You can download Google Earth for free here.
Trajectories modled in this KMZ file are only estimates determined by calculating the intersection points of all witnesses and then averaging these results to determine the starting and ending points of the fireball. The model's margin of error varies based on the accuracy and location of witness reports. We continue to make improvements to the trajectory modeling algorithm and data collection methods.
Questions regarding this study should be sent to AMS Operations Manger Mike Hankey. Mike can be reached at mike.hankey@gmail.com