We received 791 fireball reports during the week-end, mainly from the US, the UK and from France.
Daylight Fireball over the English Channel on Friday, 19th
Thanks to our European partners Vigie-Ciel (FR) and UKMON (UK), we received 125 reports so far about a daylight fireball event that occurred over the English Channel on Saturday, March 20th 2021 around 14:50 UT. The AMS #2021-978 event was mainly seen from West of France (Brittany, Normandy and Parisian region) and from South West England and Wales.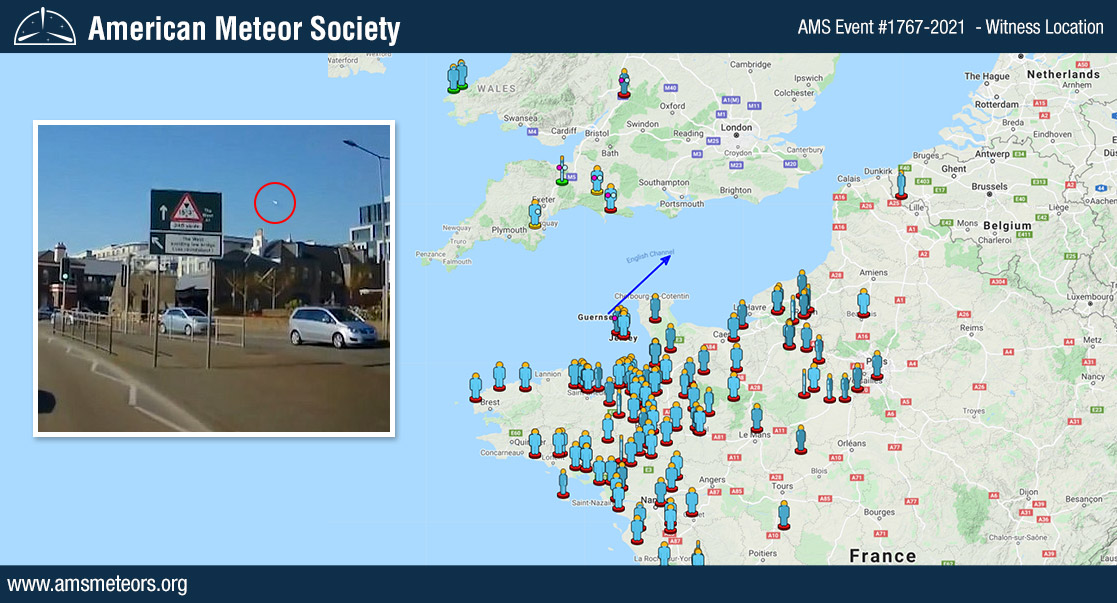 Many witness from the UK heard a sonic boom and Soundcloud user Joseph Stockwell had the chance to record the event:
UK driver, Jan Dryhurst caught the event on his dashcam (at 0:12) :
Is it a bird? Is it a plane? No, it's a meteor! ☄️

Ian Dryhurst's dash-cam captured the moment a space rock began burning up in the atmosphere over Jersey this afternoon.

— ITV News Channel TV (@ITVChannelTV) March 20, 2021
Fireball over Tampa Bay, on Saturday 20th, 8:30 PM EDT
Even though there was significant cloud cover, 60 of eyewitnesses in middle Florida reported us seeing a bright fireball around 8:32 PM Eastern Daylight Time (2021-03-21 00:30 Universal Time). An analysis of these reports indicated that the meteor was first seen at an altitude of 52 miles above Tampa Bay, moving a little south of west at 48,000 miles per hour. It ablated 33 miles over the Gulf of Mexico after traveling 39 miles through the atmosphere (study: NASA from the AMS reports).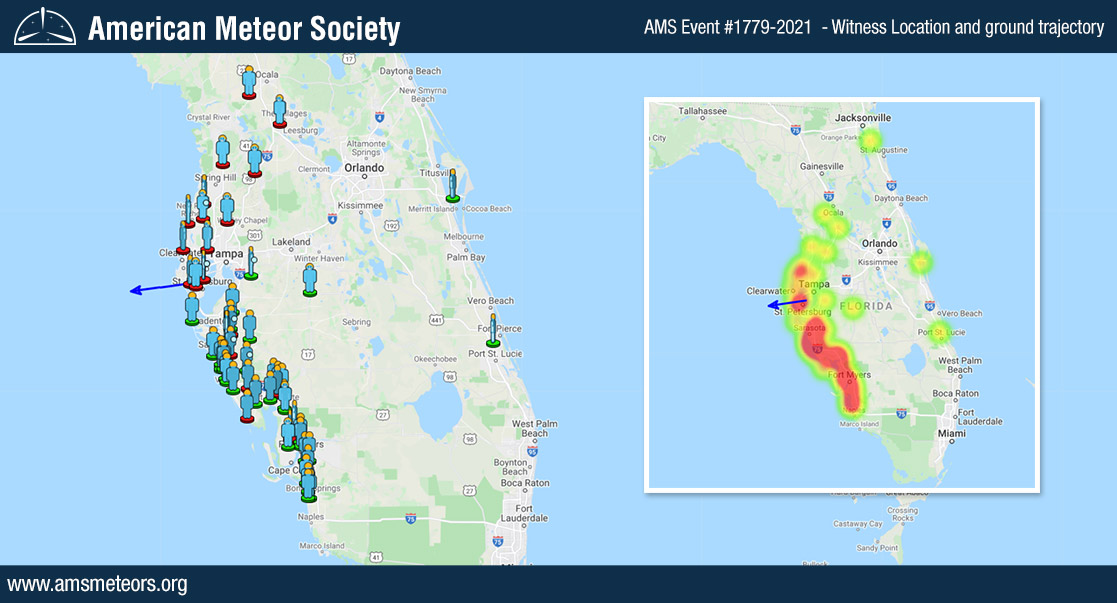 Unfortunately, we didn't receive any video about this event yet.
80 eyewitness reports from California, Nevada & Arizona – Saturday 20th
Few hours later, at least 80 people (mainly from California but also from Nevada and Arizona) reported a slow fireball seen between Las Vegas, NV and Bakersfield CA around 7:50 PM Pacific Daylight Time (2021-03-21 02:50 Universal Time). Analysis of these reports indicates that the AMS event #1787-2021 was first spotted 60 miles above Church Dome in the Sequoia National Forest northeast of Bakersfield. It moved south of east at 86,000 miles per hour before ablating 43 miles above Goldstone, traveling a total distance of 87 miles in just under 4 seconds (study: NASA from the AMS reports)..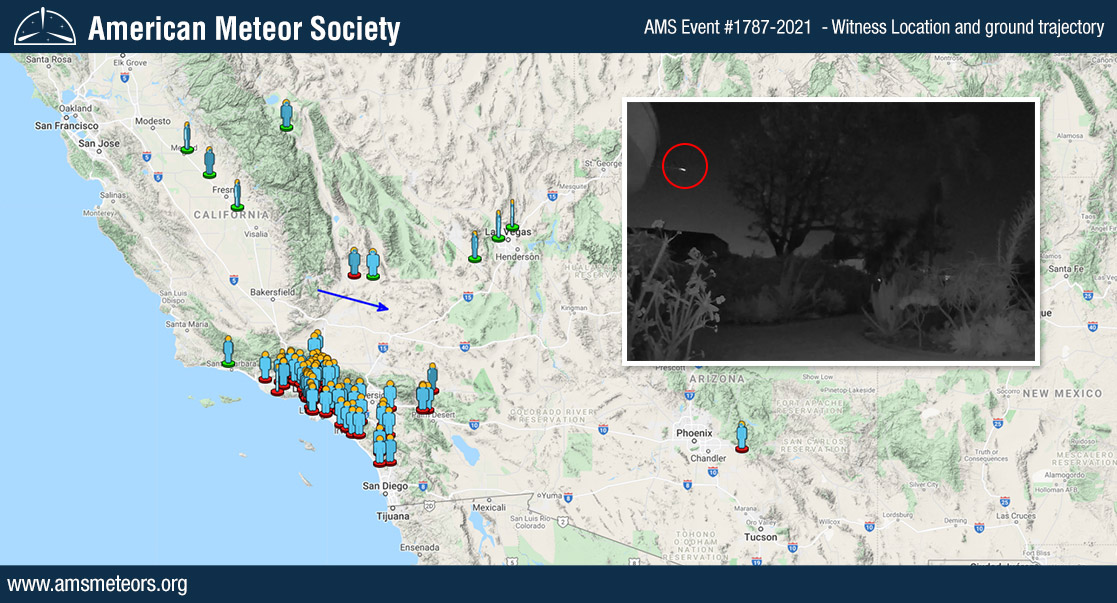 E. Rosen from Solana Beach caught the event on this door bell cam: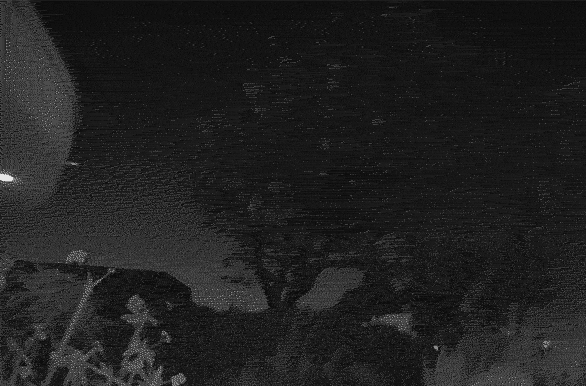 Bright fireball over Pennsylvania, on Sunday March 21st, 0:30 AM EDT
Last but not least, we received more than 240 reports (and counting) about another fireball spotted over Pennsylvania on Sunday March 21st, 0:30 AM Eastern Daylight Time (04:30 Universal Time). The event has mainly been seen from Pennsylvania, but we also received reports from Connecticut, Washington DC, Delaware, Indiana, Kentucky, Massachusetts, Maryland, Michigan, North Carolina, New Hampshire, New Jersey, New York, Ohio, Tennessee, Virginia, West Virginia and from Ontario and Québec.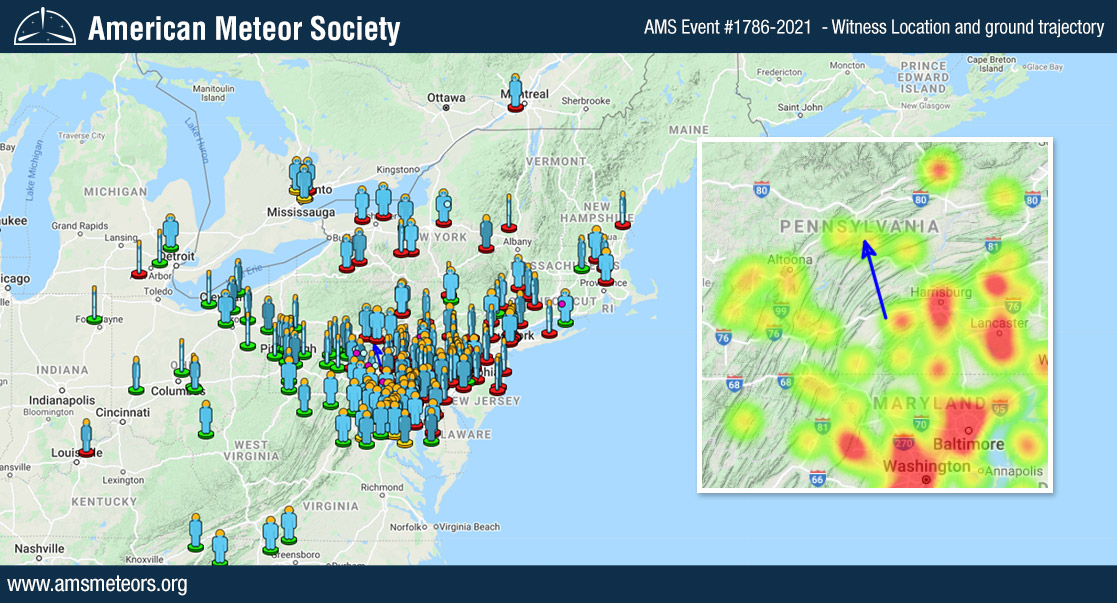 A analysis lead by NASA shows that the object first became visible 55 miles (88 km) above the town of Greenstone, near the Pennsylvania / Maryland border. Moving northwest at 51,000 miles per hour (23 km/s), the fireball traversed 38 miles (61 km) through the atmosphere before fragmenting 28 miles (45 km) above the Pennsylvania town of Newburg. The orbit of the object and the brightness of the event (roughly that of the gibbous Moon) indicate that the fireball was caused by an asteroidal fragment weighing 7 pounds (3 kg) and about 5 inches (13 cm) in diameter.
Below is a quick compilation of some of the videos we received about this event:
Fireball, Bolide?
Several thousand meteors of fireball magnitude occur in the Earth's atmosphere each day. The vast majority of these, however, occur over the oceans and uninhabited regions, and a good many are masked by daylight. Those that occur at night also stand little chance of being detected due to the relatively low numbers of persons out to notice them.
Additionally, the brighter the fireball, the more rare is the event. As a general thumb rule, there are only about 1/3 as many fireballs present for each successively brighter magnitude class, following an exponential decrease. Experienced observers can expect to see only about 1 fireball of magnitude -6 or better for every 200 hours of meteor observing, while a fireball of magnitude -4 can be expected about once every 20 hours or so.