Caught on Weather Radar
The US National Weather Service twitted that its radar may have detected a huge meteor (a fireball) near Viñales, Cuba around 1:21 pm last Friday (February 1st 2019).
Residents in Viñales, Cuba, heard a "large explosion" around this time on Friday afternoon. The explosion has now been confirmed to be from a fireball that produced a meteorite fall. The explosion can be heard in the following video shared by Viñales area resident Juan Alberto Pérez Pozo:
Only 13 witness report so far
The AMS has received only 13 reports from Florida so far about this event.
The map below shows the first estimated ground trajectory of the fireball obtained from these witness reports as well as an image obtained from the GOES-16 NOAA Satellite used for the detection of meteoroid impacts by Peter Jenniskens' team (SETI Institute).
While the trajectory computed based on witness report only indicates that the fireball was traveling from North East to South West, some analysis suggest the fireball was actually travelling the opposite way . Our trajectory is an estimate base on few reports on just one side of the trajectory – note that the end point of the AMS trajectory is less than 11km away from the meteorite location as noted by Marc Douglas Fries from NASA (ARES).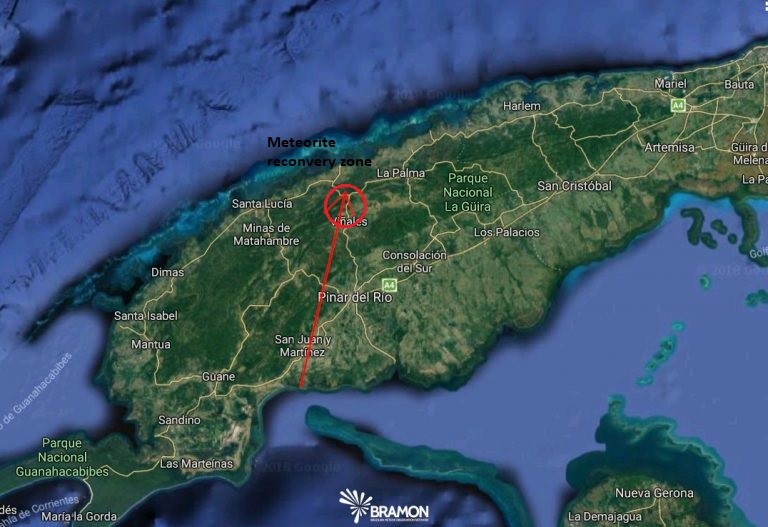 Several people noticed the wrong direction of our initial trajectory, among them Twitter users Scott Sutherland, Clemens Rumpf and Daniel Fischer.
Why our trajectory is wrong? It's a good question. Unfortunately, many factors can affect the trajectory we compute based on visual witnesses only (weather, distribution of the witnesses, etc.) We only received 13 reports so far about this event. 12 of them are from witnesses who were in Florida at the time of the event: it could be an explanation.
Meteorite Found
Several pieces of the meteorite resulting of the huge fireball has already been found. Twitter user, Fátima Rivera Amador shared the following photos of her finds:
February Meteorites?
This paragraph has been written by AMS's Operation Manager, Mike Hankey.
Late January and February are known to have an increased rates of meteorite dropping fireballs. Is this a missed perception or reality? If we look back over the last 10 years of meteorite falls, there have been a total of 77 falls from the end of 2009 to the end of 2018. An even distribution of these events over each month would result in .6 meteorites per month/year or 6 meteorites for each month over the last 10 years.
Between January 2009 and January 2018, 9 known meteorites have fallen in the month of February. If we extend to a 6 week period of Jan 15 to Feb 27, the total is 14 meteorites which is 1.5x higher than the even per month distribution.
| Date | Fall Location |
| --- | --- |
| Feb 1, 2019 | Viñales, Cuba |
| Jan 16, 2018 | Hamburg, MI, USA |
| Feb 16, 2017 | San Pedro de Urabá, Columbia |
| Jan 24, 2016 | Osceola, FL, USA |
| Feb 18, 2016 | Mount Blanco, TX, USA |
| Feb 6, 2016 | Ejby, Denmark |
| Feb 27, 2014 | Kuresoi, Kenya |
| Feb 15, 2013 | Chelyabinsk, Russia |
| Feb 11, 2012 | Xining, China |
| Feb 4, 2011 | Križevci, Croatia |
| Feb 28, 2010 | Kosice, Slovakia |
| Jan 18, 2010 | Lorton, VA, USA |
| Feb 15, 2009 | Ash Creek, TX, USA |
| Jan 17, 2009 | Maribo, Denmark |
The even distribution of meteorites per week/per year would be .14 meteorite per week of the year or 1.4 meteorites per week over 10 years or 8.4 meteorites in 10 years. Over the last 10 years, the 6 week period of late Jan into February has produced 14 meteorites, which is 1.75x higher than an even distribution.
Maybe there is something to these February meteorites after all.