Over 120 fireball reports from 13 states
The AMS has received over 120 reports so far about of a fireball event seen above Pennsylvania on December 2nd, 2017 around 03:10am EST (08:10 Universal Time). The fireball was seen primarily from Pennsylvania but was also seen from New York, Maryland, Virginia, Ohio, Delaware, Connecticut, New Jersey, Rhode Island, West Virginia, New Hampshire, Massachusetts and Washington, DC.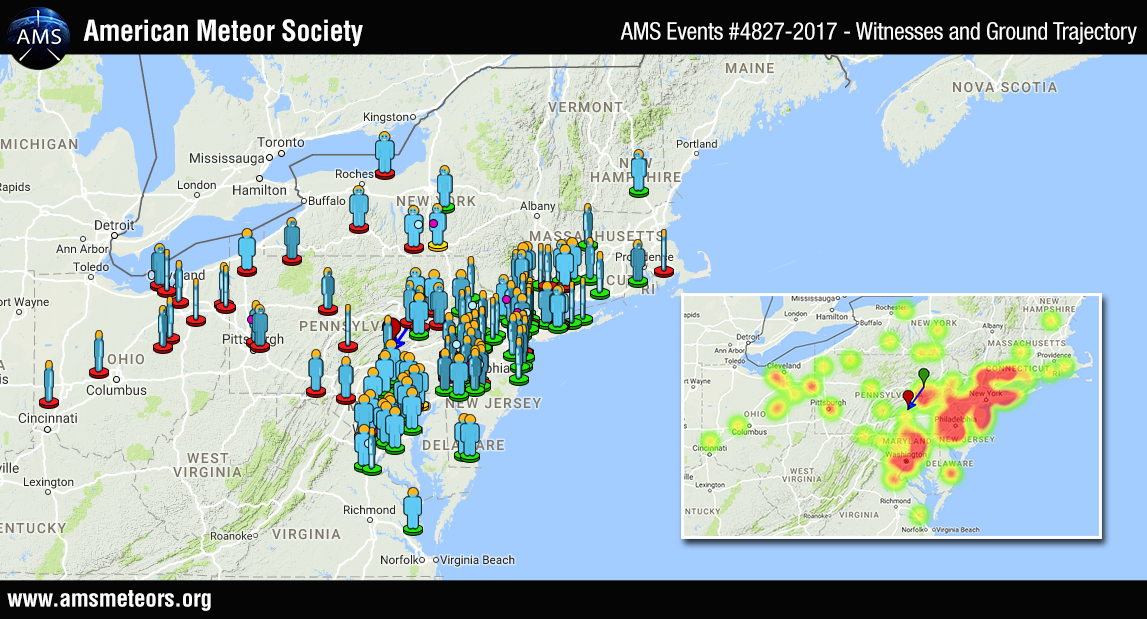 7 Videos
7 witnesses shared a video of the event through the AMS Fireball Form. All the videos can be found on the related event page.
AMS Operation Manager Mike Hankey is currently working on a new prototype camera device to automatically detect fireballs and compute their trajectory and other details. Through this program we hope to cover the skies over the US with inexpensive, easy-to-use and scientifically accurate all-in-one devices (more info soon). Mike caught this event from Maryland with his AMS Camera:
Estimated Trajectory
Below is the map of the first estimated trajectory. The preliminary estimated trajectory plotted from the witness reports shows the meteor was traveling from the Northeast to the Southwest and ended its visible flight somewhere near New Buffalo, PA.