More than 920 witnesses have reported a large fireball over mid-eastern on January 30th around 6:16pm ET (23:16 UT). The fireball was seen primarily from Virginia, Washington DC, Maryland, and Pennsylvania, but witnesses from New Jersey,  North Carolina, New York, Delaware, Ohio, West Virginia, Kentucky and even Ontario also reported seeing the fireball.
If you saw this fireball, please report it here.
If you have a video of this fireball, please share it on your free AMS account or contact us using this form.
Below is the witness heat map as well as the estimated ground trajectory of the event: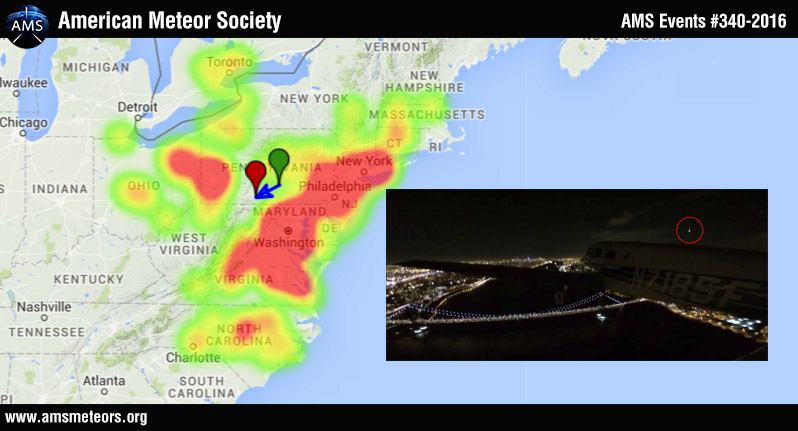 Below is a video captured on January 30th, 2016 at 6:16PM from a Piper Archer piloted by (©) Mike Grossman (filmed via GoPro, audio is of Laguardia Tower and Provided by LiveATC.net)
Below is a video of the fireball shared with the AMS by (©) Chris Dalton from Gretna, VA – Note that the time stamp is off by one hour.
Here is another video captured from a plane shared by (©) Brandon Jacobsen – "long final approach into runway 25 at Sky Manor (N40)"
Here is another video shared by (©) Alexander Salvador on Youtube
Below is a video shared by (©) Cheapo Findo on Youtube
Below is a dashcam video shared by (©) adrian burns on Youtube. Caught from Lancaster, OH.