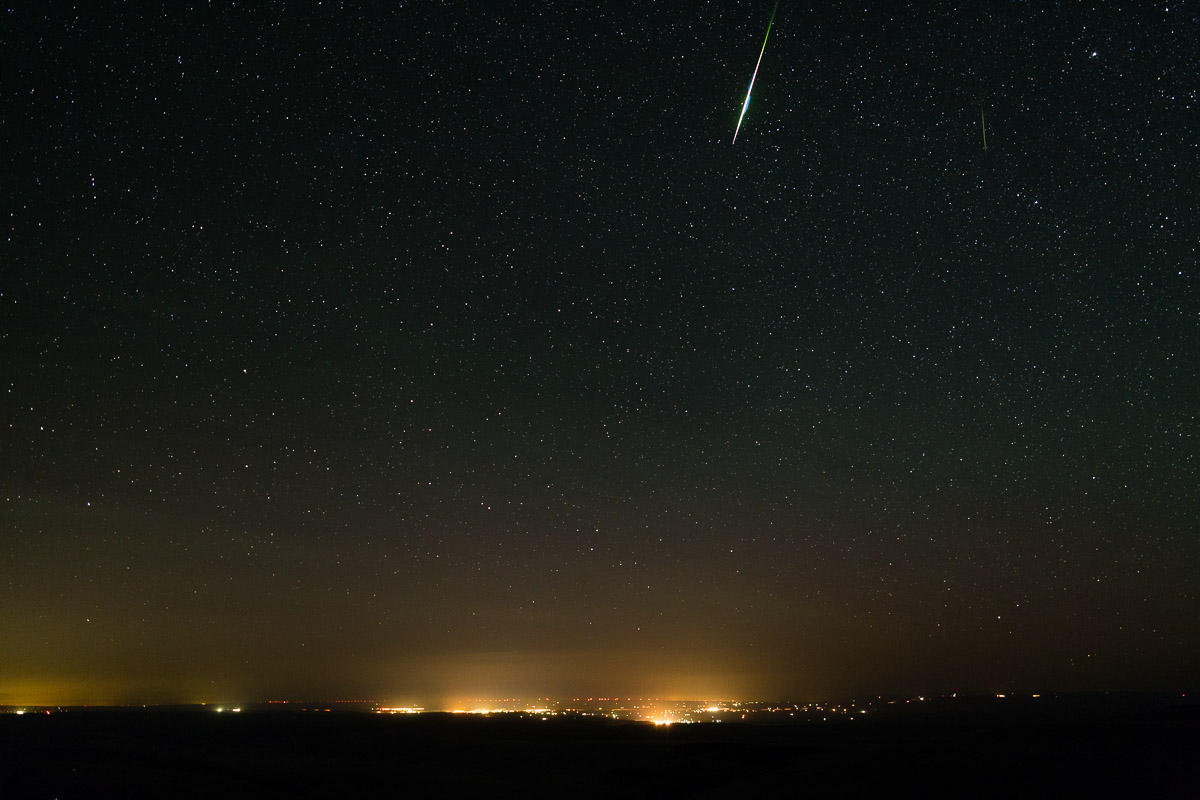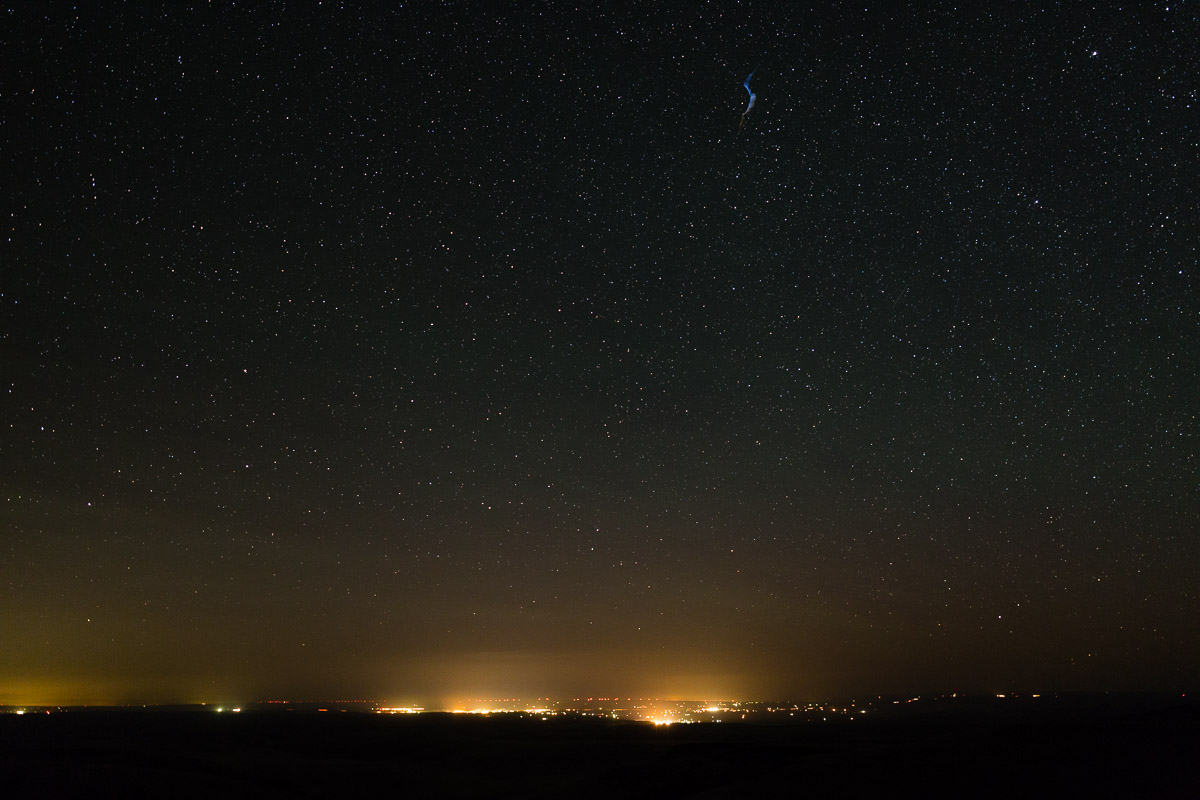 The Perseids put on a fine show for those who traveled to rural locations to view the show. Observers in the eastern hemisphere successfully observed two outbursts that occurred at 22:40 and 23:24 universal time.* Rates for these short bursts of Perseid activity were estimated to approach 200 per hour but only lasted a fraction of an hour. The main peak, which occurred over the America's, was estimated to reach a zenith hourly rate near 120 with many bright and colorful meteors. Unlike the short bursts seen over Europe, the main peak lasted many hours centered near 10 Universal Time (3:00am PDT) on August 12. Observers from Florida to California were seeing hourly rates approaching 100 per hour as viewed from dark sky sites. Rates on Saturday morning were still impressive although not as strong as those seen on Friday morning. Bright meteors were continuing to appear even though rates were falling.
The Perseids for 2016 are now essentially over, with only a scattered remnant left to be seen. Unfortunately the display in 2017 will be spoiled by a waning gibbous moon, which will obscure all but the brighter meteors. This will limit hourly rates to 25-50 meteors per hour, depending on the transparency of your sky. These rates are still better than 95% of the other nights of the year so it will be worth giving it a look next year. The maximum is also favorable next year as it falls on a Saturday morning verses a Friday morning this year.
Observations of the Perseids are still arriving and we will add them to the table below as they are received. You are invited to use the "Comments" section to add your Perseid viewing experiences and provide any counts you may have obtained.
* Times provided by Sirko Molau, International Meteor Organization
The table below lists all of the observations received by the American Meteor Society of the Perseid meteor shower as well as meteors from other sources. Information on the abbreviations for each source may be found in past weekly meteor outlooks, available on the main page of this website. All times are listed in Universal Times to avoid the confusion of multiple time zones. To find local times subtract 4 hours for EDT, 5 hours for CDT, 6 hours for MDT, and 7 hours for PDT. Limiting magnitude (LM) is an estimate of the faintest star visible to each observer. The higher the number the fainter the star and the better the sky condition. Sporadic (SPO) are random meteors not associated with any known shower. Anthelion (ANT) meteors are a continuous source of meteors active all year long and therefore separated from the short-lived showers such as the Perseids.
2016 AMS PERSEID OBSERVATIONS
DATE
OBSERVER
LOC.
PERIOD
TOTAL
L.M.
PERCENT
TOTAL
SPO
ANT
SHOWER
SHOWER
 (UT)
TIME (hr.)
CLOUDS
METEORS
Jul 09
Paul Jones
FL
0600-0700
1.00
6.50
0%
22
15
1
2 CAP
2 JPE
2 SCA
0700-0800
1.00
6.50
0%
19
12
0
1 CAN
3 JPE
1 PER
1 PPS
1 SCA
Jul 10
Paul Jones
FL
0600-0700
1.00
6.20
10%
13
10
1
1 JPE
1 SCA
0700-0800
1.00
6.20
10%
15
12
0
1 CAN
1 CAP
1 JPE
Terrence Ross
TX
0700-0800
1.00
6.17
0%
13
8
0
2 JPE
1 PPS
2 SCA
Paul Jones
FL
0800-0900
1.00
6.20
10%
21
14
0
2 JPE
4 PER
1 SCA
Terrence Ross
TX
0800-0900
1.00
6.25
0%
21
10
0
1 CAN
2 JPE
1 PER
2 PPS
5 SCA
0900-1000
1.00
6.25
0%
20
7
0
6 CAN
1 JPE
4 PPS
2 SCA
Jul 11
George Gliba
WV
0410-0510
1.00
6.40
0%
14
6
2
2 CAP
1 PER
1 PPS
2 PSA
0510-0610
1.00
6.50
0%
15
6
3
1 CAN
2 JPE
2 PPS
1 SCA
Paul Jones
FL
0600-0700
1.00
6.50
0%
21
14
0
2 CAN
1 CAP
2 JPE
1 PER
1 SCA
0700-0800
1.00
6.50
0%
25
13
0
2 CAN
3 JPE
5 PER
2 SCA
Terrence Ross
TX
0754-0900
1.10
6.23
0%
12
8
0
1 JPE
2 PPS
1 SCA
Jul 14
Paul Jones
FL
0700-0800
1.00
6.50
0%
22
10
0
2 CAN
1 CAP
2 JPE
2 PER
2 PPS
2 PSA
1 SCA
0800-0900
1.00
6.50
0%
20
12
0
1 JPE
3 PER
1 PPS
1 PSA
1 SCA
1 SDA
Jul 15
Paul Jones
FL
0700-0800
1.00
6.50
0%
22
10
1
1 CAP
1 JPE
2 PER
2 PPS
1 PSA
1 SCA
1 SDA
0800-0900
1.00
6.50
0%
33
16
1
1 CAP
4 JPE
6 PER
2 PPS
1 PSA
2 SDA
Jul 16
Paul Jones
FL
0735-0835
1.00
6.50
0%
31
13
1
1 CAP
2 JPE
8 PER
1 PPS
1 PSA
1 SCA
3 SDA
0835-0905
0.50
6.50
0%
16
9
1 CAP
3 PER
2 SDA
Jul 25
Paul Jones
FL
0200-0300
1.00
6.50
20%
7
5
1
1 CAP
0300-0400
1.00
6.50
20%
10
6
1
1 CAP
2 SDA
Jul 26
Paul Jones
FL
0300-0400
1.00
6.50
35%
12
6
3
1 CAP
1 GDR
1 SDA
Jul 28
Paul Jones
FL
0400-0500
1.00
6.20
25%
12
5
2
1 CAP
1 GDR
1 PAU
2 SDA
0537-0637
1.00
6.90
0%
32
7
4 CAP
6 PER
15 SDA
Jul 29
Paul Jones
FL
0515-0615
1.00
6.90
0%
24
7
1
1 GDR
1 PAU
1 PER
13 SDA
0615-0715
1.00
6.90
0%
35
9
2 CAP
2 GDR
5 PER
17 SDA
Jul 30
Terrence Ross
TX
0456-0556
1.00
6.05
0%
14
3
1
2 CAP
1 JPE
1 PER
6 SDA
Paul Jones
FL
0525-0625
1.00
6.90
0%
31
10
3 CAP
1 GDR
4 PER
13 SDA
0625-0725
1.00
6.90
0%
37
12
1
3 CAP
1 GDR
6 PER
14 SDA
Terrence Ross
TX
0556-0640
0.73
6.05
10%
12
7
1
2 CAP
2 SDA
0725-0825
1.00
6.90
0%
46
12
3 CAP
8 PER
23 SDA
Jul 31
Paul Jones
FL
0550-0650
1.00
7.00
0%
41
14
2
3 CAP
4 PER
18 SDA
0625-0725
1.00
7.00
0%
37
11
1
2 CAP
1 GDR
7 PER
15 SDA
Terrence Ross
TX
0649-0749
1.00
6.25
0%
33
11
1 BPE
5 CAP
1 JPE
1 PAU
2 PER
12 SDA
0749-0900
1.18
6.25
0%
27
7
3
1 BPE
1 PAU
4 PER
11 SDA
Aug 01
Terrence Ross
TX
0646-0800
1.23
6.44
0%
45
13
1
3 BPE
6 CAP
2 JPE
1 PAU
9 PER
10 SDA
0800-0900
1.00
6.50
0%
28
5
1
3 BPE
1 ERI
2 JPE
3 PAU
6 PER
7 SDA
Aug 02
Terrence Ross
TX
0649-0800
1.18
6.47
0%
37
10
1
1 BPE
2 CAP
2 ERI
1 JPE
2 PAU
4 PER
14 SDA
0800-0900
1.00
6.47
0%
20
3
2
1 BPE
1 ERI
3 JPE
1 PAU
2 PER
7 SDA
Aug 02
Terrence Ross
TX
0643-0800
1.28
6.47
0%
23
5
1
2 BPE
2 CAP
8 PER
5 SDA
Robert Togni
AR
0745-0815
0.50
2
0
2 PER
Terrence Ross
TX
0800-0900
1.00
6.47
0%
31
7
2
1 BPE
1 CAP
1 ERI
4 JPE
1 PAU
5 PER
9 SDA
Aug 03
Paul Jones
FL
0725-0825
1.00
6.90
25%
29
10
1 CAP
1 ERI
13 PER
4 SDA
0825-0925
1.00
6.90
0%
31
8
1 CAP
17 PER
5 SDA
Aug 04
Terrence Ross
TX
0645-0745
1.00
6.47
0%
34
12
3
2 BPE
1 CAP
1 PAU
6 PER
9 SDA
Paul Jones
FL
0725-0825
1.00
6.90
0%
31
8
1 CAP
1 ERI
1 NDA
14 PER
6 SDA
Terrence Ross
TX
0745-0845
1.00
6.57
0%
27
5
3 BPE
2 ERI
1 PAU
12 PER
4 SDA
Paul Jones
FL
0825-0925
1.00
6.90
0%
31
9
2 ERI
1 NDA
14 PER
5 SDA
Terrence Ross
TX
0845-0920
0.58
6.57
0%
26
3
3 BPE
2 ERI
2 JPE
15 PER
1 SDA
Aug 05
Terrence Ross
TX
0642-0742
1.00
6.47
0%
33
10
2
2 BPE
2 CAP
2 JPE
1 PAU
9 PER
5 SDA
0742-0842
1.00
6.57
0%
25
5
2
2 BPE
1 ERI
1 JPE
1 PAU
6 PER
7 SDA
Paul Jones
FL
0825-0925
1.00
6.80
0%
50
10
1 CAP
2 ERI
1 NDA
33 PER
3 SDA
Terrence Ross
TX
0842-0920
0.63
6.57
0%
17
2
1 ERI
1 PAU
8 PER
5 SDA
Aug 06
Terrence Ross
TX
0643-0743
1.00
6.47
0%
25
6
1 BPE
1 JPE
3 KCG
8 PER
6 SDA
Paul Jones
FL
0715-0815
1.00
VAR
35%
25
5
1 BPE
1 KCG
1 NDA
16 PER
1 SDA
Terrence Ross
TX
0743-0843
1.00
6.47
0%
24
6
3 BPE
1 ERI
1 JPE
11 PER
2 SDA
0843-0930
0.78
6.47
0%
25
4
3 BPE
4 ERI
2 KCG
9 PER
3 SDA
Aug 07
Paul Jones
FL
0725-0825
1.00
6.70
0%
46
9
1 BPE
2 CAP
1 ERI
1 NDA
28 PER
4 SDA
0825-0925
1.00
6.90
0%
39
8
1 BPE
1 ERI
1 NDA
27 PER
1 SDA
Aug 08
Terrence Ross
TX
0645-0800
1.25
6.57
0%
22
10
2
1 BPE
8 PER
1 SDA
Paul Jones
FL
0725-0825
1.00
6.70
0%
41
9
1 CAP
2 ERI
1 NDA
1 PAU
25 PER
2 SDA
Terrence Ross
TX
0800-0900
1.00
6.57
0%
41
10
2
2 BPE
2 ERI
1 NDA
2 PAU
20 PER
2 SDA
Paul Jones
0825-0925
1.00
6.90
0%
42
10
1 ERI
1 NDA
28 PER
1 SDA
Terrence Ross
TX
0900-1000
1.00
6.57
0%
38
10
4 BPE
2 ERI
1 KCG
2 NDA
1 PAU
16 PER
2 SDA
Craig Heden
CA
0900-1130
2.50
72
30
42 PER
Aug 09
Terrence Ross
TX
0643-0800
1.28
 6.47
 0%
30
10
1 BPE
1 KCG
2 NDA
1 PAU
12 PER
3 SDA
Lisa Goodwin
MA
0757-0828
0.52
24
Terrence Ross
TX
0800-0900
1.00
 6.47
 0%
23
3
2 BPE
2 ERI
1 JPE
3 NDA
1 PAU
10 SDA
1 SDA
Paul Jones
FL
0825-0925
1.00
6.90
10%
59
13
4 ERI
2 NDA
38 PER
2 SDA
Terrence Ross
TX
0900-1000
1.00
 6.47
 0%
31
6
4 BPE
1 ERI
2 JPE
1 NDA
1 PAU
16 PER
Craig Heden
CA
0900-1100
2.00
54
22 PER
Aug 10
Paul Jones
FL
0725-0825
1.00
6.90
0%
55
11
1 ERI
1 KCG
4 NDA
32 PER
6 SDA
0825-0925
1.00
6.90
0%
77
12
3 NDA
57 PER
5 SDA
Craig Heden
CA
0900-1100
2.00
42
26 PER
Aug 11
Paul Jones
FL
0725-0825
1.00
6.90
0%
71
10
1
1 ERI
1 KCG
4 NDA
49 PER
5 SDA
Robert Lunsford
CA
0800-0900
1.00
6.72
0%
30
4
1 ERI
1 KCG
24 PER
Paul Jones
FL
0825-0925
1.00
6.90
0%
78
9
3 ERI
65 PER
1 SDA
Robert Lunsford
CA
0900-1000
1.00
6.63
0%
41
16
3 ERI
22 PER
Craig Heden
CA
0900-1100
2.00
61
40 PER
Robert Lunsford
CA
1000-1100
1.00
6.55
0%
43
11
2 BPE
3 ERI
27 PER
1100-1200
1.00
6.40
0%
53
13
3 ERI
37 PER
Aug 12
Alice Stanley
VA
0300-0400
1.00
5%
9
 9 PER
0400-0500
1.00
14
Paul Jones
FL
0400-0500
1.00
6.50
20%
29
6
1 NDA
21 PER
1 SDA
George Gliba
WV
0430-0530
1.00
6.40
0%
65
3
3
1 BPE
1 CAP
55 PER
2 SDA
Alice Stanley
VA
0500-0600
1.00
35
 35 PER
Paul Jones
FL
0500-0600
1.00
6.50
20%
56
6
1 KCG
47 PER
2 SDA
George Gliba
WV
0530-0630
1.00
6.60
0%
83
5
3
2 BPE
1 KCG
1 NDA
70 PER
1 SDA
Paul Jones
FL
0600-0700
1.00
6.50
20%
75
8
1 ERI
63 PER
3 SDA
David Swann
OK
0600-0700
1.00
5.00
0%
30
7
23 PER
0700-0800
1.00
5.80
0%
48
6
42 PER
Paul Jones
FL
0700-0800
1.00
6.50
20%
93
9
1
1 BPE
1 NDA
78 PER
3 SDA
Robert Lunsford
CA
0700-0800
1.00
6.18
0%
31
3
3
25 PER
Robert Togni
AR
0715-0817
1.00
5.00
25
1
24 PER
Paul Jones
FL
0800-0900
1.00
6.50
20%
110
11
1 BPE
2 ERI
95 PER
1 SDA
Robert Lunsford
CA
0800-0900
1.00
6.45
0%
64
3
2
57 PER
2 SDA
Craig Heden
CA
0800-1130
3.50
207
148 PER
David Swann
OK
0900-0930
0.50
5.80
0%
30
2
28 PER
Paul Jones
FL
0900-0930
0.50
6.50
20%
59
5
54 PER
Robert Lunsford
CA
0900-1000
1.00
6.50
0%
65
4
1 ERI
60 PER
Carl Hergenrother
AZ
0900-1000
1.00
6.28
11%
71
14
57 PER
David Swann
OK
1000-1045
0.75
5.80
0%
35
4
31 PER
Carl Hergenrother
AZ
1000-1100
1.00
6.27
0%
13
74 PER
Robert Lunsford
CA
1000-1100
1.00
6.45
0%
113
12
2
2 ERI
93 PER
4 SDA
1100-1200
1.00
6.27
0%
72
4
1 ERI
67 PER
Aug 13
Paul Jones
FL
0600-0700
1.00
7.00
0%
52
6
2 ERI
2 KCG
5 NDA
35 PER
2 SDA
0700-0800
1.00
7.00
0%
57
7
1 NDA
49 PER
Richard Taibi
MD
0720-0821
1.02
5.60
0%
32
12
20 PER
0821-0900
0.65
5.55
0%
15
4
11 PER
Craig Heden
CA
0830-1030
2.00
106
73 PER
Paul Jones
FL
0800-0900
1.00
7.00
0%
82
9
1 ERI
6 NDA
62 PER
2 SDA
0900-0930
0.50
7.00
0%
42
5
37 PER
Aug 14
Paul Jones
FL
0725-0825
1.00
7.00
0%
52
9
3 ERI
1 KCG
3 NDA
36 PER
0825-0925
1.00
7.00
0%
49
10
5 ERI
1 NDA
32 PER
Aug 15
Paul Jones
FL
0800-0900
1.00
7.00
0%
46
11
2 BPE
1 ERI
3 NDA
29 PER
0900-0930
0.50
7.00
0%
22
6
1 ERI
15 PER
3 NDA
29 PER
Aug 16
 Terrence Ross
 TX
0948-1100
1.20
5.91
0%
24
12
2 AUR
1 BPE
2 ERI
7 PER