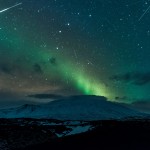 During this period the moon will reach its last quarter phase on Friday March 13th. At that time the moon is located 90 degrees west of the sun and rises near 0100 local daylight saving time. This weekend the waning gibbous moon will rise during the late evening hours effectively ruining the remainder of the night for meteor observing…
As seen from the northern hemisphere, March is the slowest month for meteor activity. No major annual showers are active and only a few very weak minor showers produce activity this month. The sporadic rates are also near their annual minimum so there is not much to look forward to this month except …
While conditions are favorable for meteor observing during this period, hourly rates are expected to be low, especially from the northern hemisphere. There are no "real" radiants active during this period plus sporadic rates are low as seen from the northern hemisphere. These low rates can be blamed on the…
This week sees the moon finally giving way to dark skies but the meteor activity will be slow despite the absence of moonlight. Most of the activity this week is reserved for observers in the southern hemisphere as there are 3 active radiants in the southern constellation of Centaurus.
During this period the moon will hinder attempts to view meteor activity, especially during the more active morning hours. Later in the week the evening hours will be free of moonlight but activity at that time is expected to be very low.
February is the start of the fireball season, when an abundance of fireballs seem to occur. This lasts well into April and seems to occur mostly during the early evening hours…
During this period the moon reaches its first quarter phase on Monday January 26th. At this time the moon is located 90 degrees east of the sun and will set near midnight local standard time (LST) for observers located in mid-northern latitudes…
This period is dominated by numerous weak radiants best observed during the morning hours. The moon reaches its new phase on Tuesday January 20th. At this time the moon is located near the sun and cannot be seen at night.
Meteor over Mercedes County Observatory, Buenos Aires, Argentina (2011) @Luis Argerich – http://goo.gl/8hNvTm Radiant Positions at 8pm Local Standard Time from 40N Latitude Radiant Positions at Midnight Local Standard Time from 40N Latitude Radiant positions at 4am Local Standard Time… Read More >
Videos of a large fireball (actually a bolide), that exploded over Bucharest, Romania, early Wednesday show night turning to day. The event took place at 3:05 Local Time on January 7th. Witnesses reported that the meteor produced a bright greenish… Read More >
Quadrantid meteor over Alberta, Canada (2011) Photograph by Yuichi Takasaka, TWAN – © January is best known for the Quadrantids, which have the potential of being the best shower of the year. Unfortunately this shower is short lived and occurs… Read More >
Dee Campton – December 14, 2014 @ 22:03. Martinsville, Virginia looking SE. Radiant Positions at 8pm Local Standard Time from 40N Latitude Radiant Positions at Midnight Local Standard Time from 40N Latitude Radiant positions at 4am Local Standard Time from… Read More >